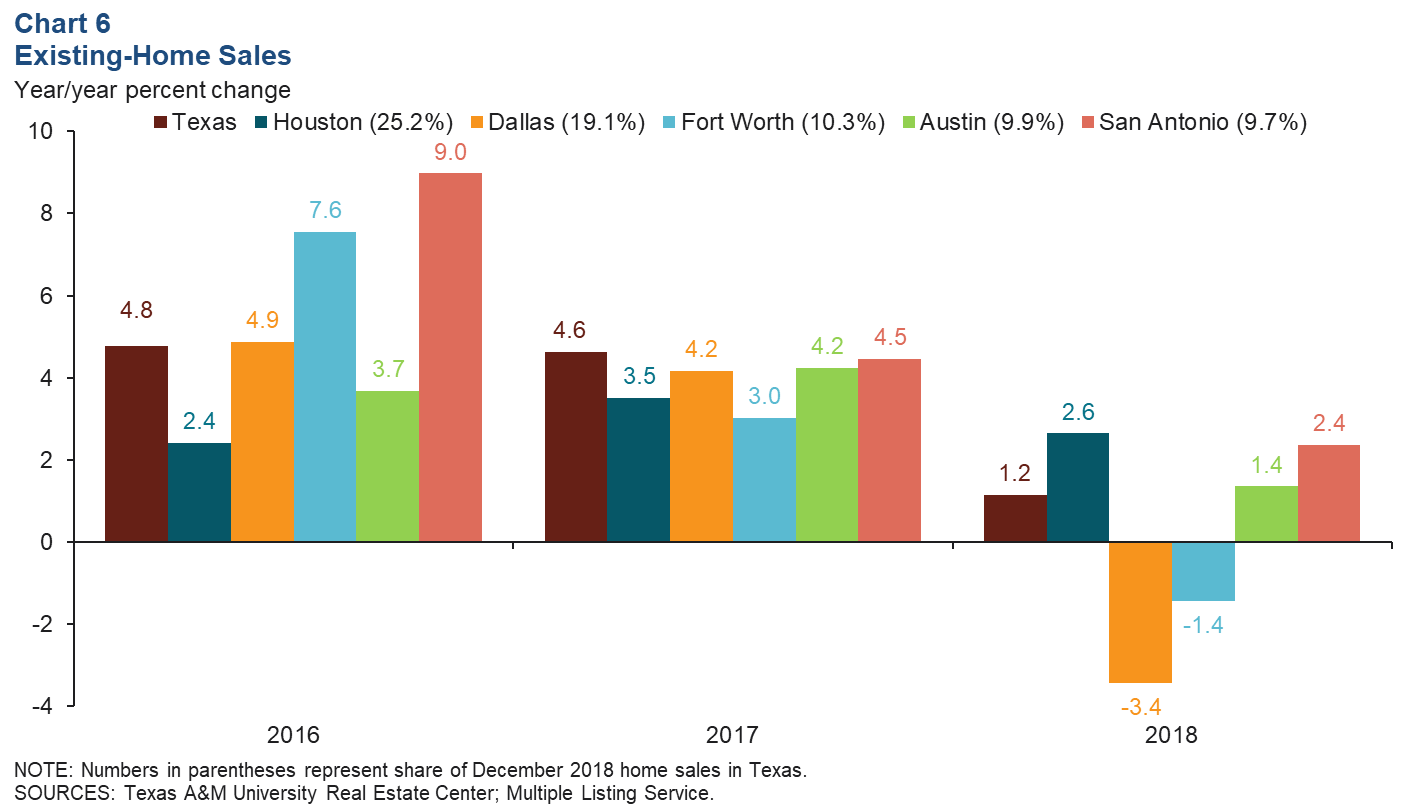 The Dallas Fed has released the latest Economic Indicators Reports for Texas and the major Texas metros. A link to each report is provided below along with PDF copies attached hereto, for your reference.
Texas: Texas economic indicators were mixed in December. The state finished 2018 with strong job growth and continued labor market tightness, but forward-looking indicators suggest that the state's economic outlook has softened. The leading index dipped for the third month, and the Dallas Fed's 2019 employment forecast shows slower growth than the state's long-run average. The Texas Business Outlook Surveys suggest that current output growth slowed, and firm sentiment about broader economic conditions and company outlooks deteriorated.
Austin: The Austin economy grew at a strong pace in November. The Austin Business-Cycle Index-expanded and remained above its long-term trend. Employment growth by sector was mixed, with the health and education services sector continuing its surge and financial activities declining. Hourly wages were unchanged, while home construction permits weakened and housing affordability improved.
Dallas-Fort Worth: The Dallas–Fort Worth economy ended 2018 on a solid note. Employment growth was robust in December, with DFW adding jobs at its fastest pace in 13 months, and unemployment remained near multiyear lows. The Dallas and Fort Worth business-cycle indexes strengthened at year end, providing some momentum for continued growth in 2019. The DFW apartment market saw healthy absorption in 2018, but rent growth and construction activity moderated.
San Antonio: Growth in the San Antonio economy was soft in December. The San Antonio Business-Cycle Index decelerated, and the unemployment rate increased. While overall job growth was weak in the last quarter of 2018, the leisure and hospitality and mining industries performed well. In December, home prices fell slightly and, more recently, stock prices of San Antonio companies improved.
Houston: Growth in Houston leading and coincident economic indicators weakened in December. Job growth slowed, but the local labor force expanded. Heavy and civil construction posted stellar job growth last year, and the existing-home market ended the year on healthy footing despite rising mortgage rates.
We hope this information is useful to you. Should you have any questions or feedback, please don't hesitate to reach out to us.