As Pflugerville Real Estate experts we are always staying up-to-date on this wonderful city we call home. The city of Pflugerville has recently published an annual booklet allowing residents to walk down memory lane revisiting some of the main events that have happened over the past year.
"From Heatherwilde Blvd and Kennemer Lane construction, to a Comic Con at the library, the document features new programs and activities," city officials said. "It also gives updates on your city council, the new 1849 Park, and Community Development Block Grant projects."
Some of the many highlights include:
Ranked 12th best place to live for a population of 50k-300k by Money Magazine. "When you combine our Central Texas location with city festivals that contribute to a small town feel and carefully managed growth, you get a wonderful place to raise a family," Mayor Jeff Coleman said.
Mayor Victor Gonzales and City Council member Doug Weiss were elected during a special election.
The City Council identified key focus areas and developed a strategic plan targeting fiscal responsibility, economic development, public safety, infrastructure, transportation, public engagement and quality of life.
The city accepted more than $9 million in privately funded public infrastructure in 2016 including roadways, drainage, utilities, sidewalks and trails.
In Fiscal Year 2016, Pflugerville completed 12 Improvement Projects with an approximate construction cost of $14,864,307.
Pflugerville Book Pfestival: The Library hosted 19 authors at this event with many award-winning and best-selling authors.
Recycling. A study was done on Pflugerville recycling habits and found that 79.9% of residents recycle.
City Council authorized the use of body cameras for Pflugerville police officers.
The City Council approved the 1849 Park Master Plan map which outlines $61 million in potential improvements for the entire 1849 Park. Keep up with the 1849 Park project here.

Home values are rising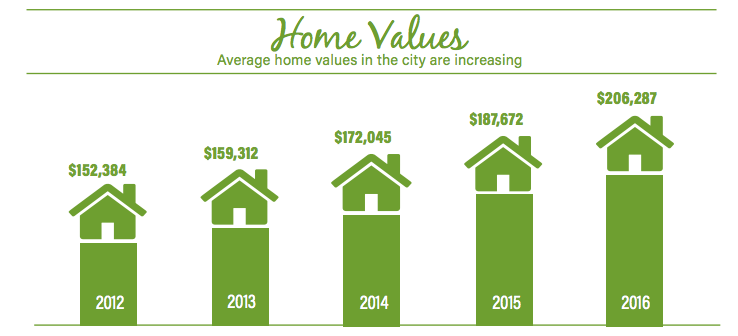 The annual booklet highlighted many other events from 2016, awards presented and fun city facts. Here at Dash Realty we have one conclusion: Pflugerville is a wonderful place to call home.